---
After Dorian, Bahamas Tackles Massive Clean-Up - businessjournaldaily.com
Posted: 12 Sep 2019 08:13 AM PDT
After Dorian, Bahamas tackles massive clean-up
By DÁNICA COTO Associated Press
HIGH ROCK, Bahamas (AP) — Pastor Jeremiah Saunders stood in the golden afternoon sun and barely blinked as he debated what to pick out from the ruins of the church he built 22 years ago in the seaside village of High Rock on the eastern end of Grand Bahama island.
A black-and-blue tie floated nearby in a pool of water and beyond that a ruptured set of drums toppled. Nearby, bone-white sea shells nestled in tufts of grass, flung by surging floodwaters that a week ago carried Saunders for 200 yards until he grabbed hold of a large pine tree and spent two days on a branch after Hurricane Dorian hit the island.
"I spoke to the water: 'Peace, be still.' It never listened," Saunders said Wednesday with a wide smile. But then he grew serious as he focused on the daunting cleanup task facing the tens of thousands of Bahamians who live on the two islands in the northern Bahamas that were devastated by the Category 5 storm.
It will be slow process that some are tackling in very small steps. Saunders picked out two hammers, five screwdrivers and three treasured Bibles.
In contrast, 67-year-old Mary Glinton in the nearby fishing village of McLean's Town wasted no time getting rid of all her ruined possessions. She created three piles of clothes stiffened by mud and water and set them on fire. A white lace curtain, a bright pink wind-breaker and an old pair of black pants soon went into the flames. She most lamented that all her church clothes were ruined.
"I love blue, and most of my dresses are blue," she said standing near the fire in green flip-flops, her legs caked with mud. She also lamented the loss of her 1-year-old pet hog, Princess.
A preliminary report estimates Dorian caused a total of some $7 billion in damage, but the government of the Bahamas has not yet offered any figures. Crews have started to remove some debris on both islands, but they are moving slowly to avoid accidentally disturbing any bodies lying in the rubble. The official death toll stands at 50, and Prime Minister Hubert Minnis said he expects the number to significantly increase.
About 2,500 people are listed as missing in the hurricane's aftermath, although the government has cautioned that it still needs to check names against the rosters of people evacuated from the devastated islands or staying in shelters.
But as cleanup continues, the first hints of normalcy could be seen in Freeport, a city on Grand Bahama that is operated by a private company, which provides utilities and charges residents without any government intervention. Lights began to flicker on in some neighborhoods, and crews were seen repairing transformers in other areas.
Among those celebrating the return of electricity was rental car company driver Clifton Williams, who was driving home from work when he saw an illuminated streetlight for the first time since the hurricane.
"I didn't expect that so quickly," he said. "First thing I do, I cut on the fan and cool off myself," he added, saying he slept well for the first time in more than a week thanks to the fan.
But the small villages that dot the eastern coast of Grand Bahama have barely received any help. Some residents hitchhike daily from Freeport to their destroyed homes to sort through their belongings and clean up.
Tereha Davis, a 45-year-old fisherwoman, said she was unable to find a ride one day and ended up walking eight miles under the blistering sun. Davis was setting up piles of things she salvaged until she could find someone who could give her a ride back to Freeport with all her possessions. On Wednesday, she walked through McLean's Town wearing bright purple surgical gloves, taking a break from cleaning as she looked for something sweet to drink for a boost of energy. She found nothing.
She and others said they had not seen any government officials and have only received food and water from some nonprofit groups.
The prime minister acknowledged the situation in a televised address late Wednesday.
"There have been problems in the coordination of this aid due to the magnitude of this devastation," Minnis said, adding that he understands the deep frustration of those dealing with "bureaucratic roadblocks" and pledged to reduce the red tape and bring in more aid and extra personnel.
"There are no words sufficient to describe this tragedy," Minnis said. "No Bahamian has ever seen anything like this in their lifetime."
As they wait for more help, people across Grand Bahama waded into the cleanup, tossing out mattresses, tearing off roof shingles and clearing branches and power lines as they stood near concrete walls that Dorian knocked down.
At his Beulah Land Ministries church, the 61-year-old Saunders had been preparing to open a small boarding place for visiting mission groups before Dorian hit. He stood surrounded by gleaming white toilets and sinks, piles of shiny brown tiles and soggy rolls of burgundy carpet.
"I am going to rebuild," he said in the ruins of his church. The only thing that remained unscathed was a wooden crucifix that he nailed to a wall 22 years ago.
Published by The Business Journal, Youngstown, Ohio.
CLICK HERE to subscribe to our print edition and sign up to our free daily headlines.
Life Deconstructed: Flying away to clear waters and deep-fried tans - Wilkes Barre Times-Leader
Posted: 12 Sep 2019 12:03 PM PDT
-
Everyone who knows me, knows I'm a homebody. It's hard to get me to leave my cocoon, except for runs to CVS for my Hot Tamales and Target for my Depends, but even I realized Nancy and I had to get outta town for a little vacation this summer. Somewhere without a freaking golf course.
Nancy enjoys my discomfort surrounding several things: flying, waking up early and physical fitness and this trip embodied all three of these psychoses.
Because it's fun for him, he schedules any departure before the sun comes up. I hate him. So, we set out for that big airport of "International" travel, nestled within the metropolis of Avoca, driving round and round in circles, literally, until we found our way to an airport that can be gotten to in seven minutes from our home. Without the stupid circles. It was so early, I still had gunk in my eyes and, according to the x-ray security personnel, earplugs in my ears. I was hungry and miserable, and the flight was delayed.
The Gods of Flight hate me. The Gods of Carbs hate me. The God of Thin Thighs hate me. I just wanted a glazed donut.
We eventually had a hefty layover at Dulles, which I believe is larger than any Kenyan village, and at that point, I was feeling a little perkier. Thinking I was being all sassy and aerobic, as we were about to step onto the escalator I said to Nancy: "You go ahead and be lazy. I'm running up the steps. I have to log my 10,000 steps today!"
I jogged up that staircase like Rocky at the museum, except for one thing: Rocky never fell. I landed so aggressively on those stairs that I bruised the palms of my hands and both knees and you know my pride was spectacularly detonated. There were so many spectators, who just seconds prior heard me be a saucy bitch to my husband, and there I lay crumbled like an old bag of Lays. I was mortified. And all Nancy said was: "Woops."
I'm just not a good traveler. My fantasy is to have super powers like Samantha on Bewitched; just twitch my minivan of a nose and arrive at our destination. Alas, I'm more like Mrs. Kravitz, Samantha's nosy neighbor. Well, Mrs. Kravitz on medication. Because that's how I navigated the remainder of this trip: medicated. Flight is a quagmire I've never felt comfortable negotiating without a prescription and a mini-vat of Pinot. So, predictably, I fell into a deep coma, across three seats at Gate G-18. I think Nancy thought/prayed I'd expired; I didn't awaken until he waved a Cinnabon under my nose.
Finally! We landed in amazing Clearwater! Dear Jesus, my bruised body just wanted the ocean. I couldn't fall in the ocean. I don't think.
I bought a tube, meant for a 6-year-old, stuffed my kielbasi body into it and floated in the warm tide for four straight days. I won't bore you with the predictable tales of sunburn bordering on poisoning, because, that Florida sun is not the same one we have here in coal mining county. That sucker sears. I sizzled and toasted like a slab of Spam in a cast iron frying pan, but it was all so finally worth it.
Clearwater: I heart you.
Dulles Airport: carpet your stairs.
Nancy: I'm still alive, albeit the color of the "Razmatazz" Crayola. And I want that Cinnabon.
Maria Jiunta Heck, of West Pittston, is a mother of three and a business owner who lives to dissect the minutiae of life. Send Maria an email at [email protected]
Buy Flood Insurance Coverage - Bankrate.com
Posted: 07 Aug 2019 12:00 AM PDT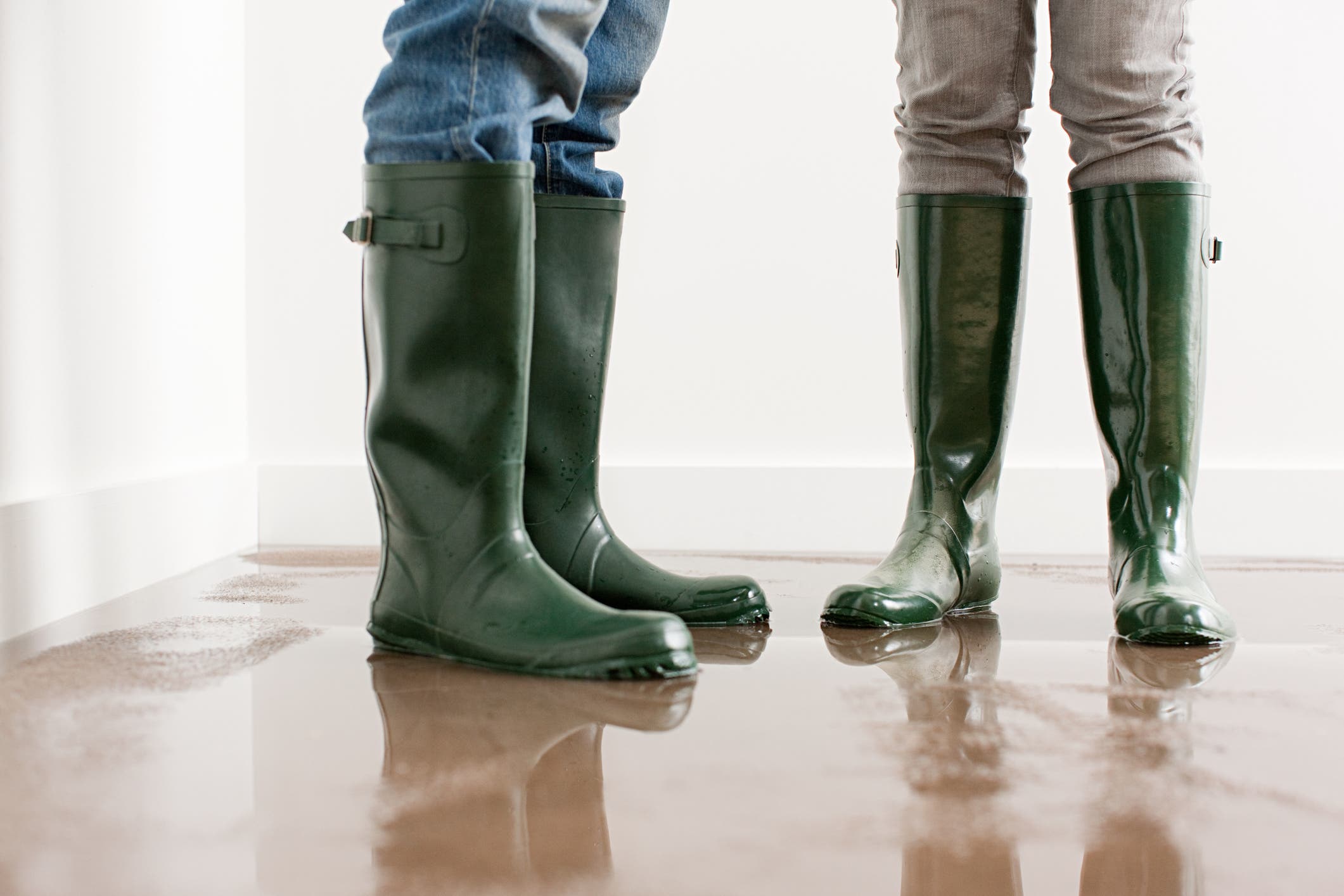 If you're a homeowner and you carry a homeowner's insurance policy on your house, you may think you're completely covered. However, you could be leaving yourself open to some major out-of-pocket repair costs if your house sustains water damage. More than 20 percent of flood claims originate from outside of a flood zone, according to the Federal Emergency Management Agency, or FEMA, which means that virtually no home is safe from potential flooding, even if you live well outside of a floodplain.
According to the Center for Research on Environmental Decisions, floods are the most common natural disaster, and therefore the most costly type of natural disaster in the U.S. The only way to completely cover yourself, and your home, is by purchasing flood insurance. Without it, you'll be paying out of pocket for any and all repairs to your home if it floods.
All it takes is a few inches of water to do some devastating damage to your home, and just one inch of water can do a whopping $25,000 worth of damage to your property, according to FEMA. And, while there may be a handful of homeowners policies that include flood insurance, it's more than likely you won't be covered under your normal policy.
But it's not just homeowners who may need a flood insurance policy. Renters typically aren't covered for flood damage under a standard rental policy, and while you likely won't be the one ponying up for the cost of new floors and drywall (if the flood wasn't your fault), you do need a contents-only flood policy to make sure your furniture and other items are covered. It will help pay for the cost to repair or replace your items in case of flood damage.
How to buy flood insurance
Wondering how to buy flood insurance? It isn't like buying homeowners insurance. You can only purchase flood insurance through an insurance agent or an insurer that participates in the federally backed National Flood Insurance Program, or NFIP. If you already have an insurance agent, start with them, but be aware that not all agents offer it, and it can be tricky to find in areas that are prone to flooding. You cannot buy it directly from the NFIP, according to FEMA, so if your agent does not sell flood insurance, you can contact the NFIP Referral Call Center to request an agent referral.
Which insurance carriers offer flood insurance?
Not all agents or companies offer flood insurance. You can get it through:
One of the 59 private companies that offer it, including Allstate, Farmers Insurance, Liberty Mutual and USAA.
The National Flood Insurance Program's Servicing Agents, which is only an option if you're in one of the 22,000 participating communities. If you're hoping to bundle your car insurance with flood insurance, Geico offers flood insurance through the NFIP.
Both are backed by the federal government, which means either is a solid option.
What you need to know before you buy flood insurance
Before you make that call to your insurance agent, though, you need to know what to ask to make sure you're completely covered. FEMA suggests asking your agent the following:
Does my community participate in the National Flood Insurance Program? FEMA says that most communities do participate, and your agent can tell you if that's the case. If you want to know prior to your call, you can always look it up online in the Community Status Book.
What flood zone do I live in? What is my property's flood risk? Is there a flood map change coming that could affect what I pay? Many, many communities are built on a flood zone, and you may not even be aware that your house is situated on one. It's important to know what the risk is for flooding to your home––a number of factors can affect it––and changes are frequently made to the flood map, which could raise the cost of your policy.
What will and won't be covered? As with any insurance policy, there are things that will or won't be covered, and it's important to know what the policy covers before you buy flood insurance. Does it cover the contents of your home or just damage to the property? What types of floods are covered?
How much coverage should I get for my building and for my contents? This is an important question; being underinsured isn't much better than being uninsured. You'll want to make sure that you cover as much of your property as possible, provided that it fits into your budget.
What does a typical flood insurance policy cover?
In general, flood insurance policies only cover damage from natural flood disasters, not from an overflowing toilet or broken pipe. So in order for your flood policy to cover damage, it has to be from a naturally occurring incident.
If you need more clarification, FEMA's definition of a flood can help sort things out. According to FloodSmart, FEMA's flood guide, a flood is defined as (1) "A general and temporary condition of partial or complete inundation of two or more acres of normally dry land area or of two or more properties (at least one of which is your property) from a. overflow of inland or tidal waters; b. unusual and rapid accumulation or runoff of surface waters from any source; or c.mudflow*. (2) collapse or subsidence of land along the shore of a lake or similar body of water as a result of erosion or undermining caused by waves or currents of water exceeding anticipated cyclical levels that result in a flood." So, in other words, water damage that occurs from natural disasters.
There are a couple of types of flood insurance, and what kind you have will dictate what's covered. The first is building property coverage, which covers:
The structure of your house
The electrical and plumbing systems
Central AC, furnaces, vacuum systems, etc
Refrigerators and built in appliances
Permanently installed carpeting
Window blinds
Detached garages
If you want the items inside your house to be covered under your flood policy, you'll have to purchase what is called "personal property coverage," which covers most personal belongings, separately. This type of policy covers:
Clothing, furniture and electronic equipment
Curtains
Portable air conditioners, window units
Carpets not included in building coverage
Washers and dryers
Food freezers and the food in them
Valuables like artwork and fur (up to $2,500)
Rental-specific coverage
Businesses and homeowners aren't the only ones who need flood insurance; renters should look at what options are available, too. If you're a renter, you can also get a policy through the NFIP that will cover the contents of your rental, up to $100,000. The cost of the policy will depend on where you live and how much of a flood risk there is to the property you're renting. If you're located in a low- to moderate-risk area, you may qualify for a Preferred Risk Policy, and it won't cost much at all.
You may also like