---
Nebraska's flood-damaged golf courses are slowly opening for season - Omaha World-Herald
Posted: 06 Apr 2019 12:00 AM PDT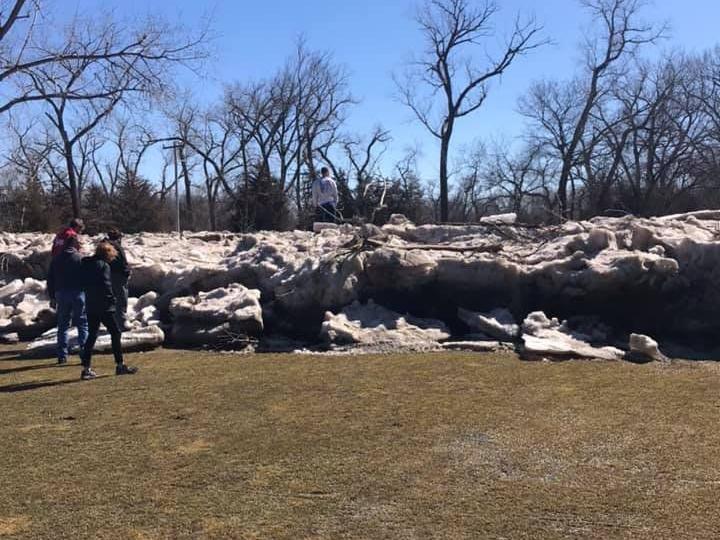 Once the Platte River flood waters receded, PGA professionals Don Dravland and Pete Balerud were relieved.
Their golf courses were largely intact. No greens were damaged.
Dravland's course, Pines Country Club in Valley, opened its back nine last week to member-only play. Balerud's North Bend Golf Course isn't open yet, needing to get its irrigation system running to wash debris from the course.
Oakland Golf Club, which was flooded by Logan Creek for the second time in less than a year, could get its back nine open in a week or two.
The Nebraska course hit the hardest is Quail Run, the municipally owned 18-hole facility in Columbus along the Loup River.
"Nothing has been done at this point,'' course pro Doug Dunbar wrote in an email, "as FEMA and the city's insurance company cannot assess the extent of the damage until the ice melts.
As of Wednesday, ice flows 5 feet thick still covered six holes on the south side of the dike, according to the Quail Run Facebook page.
Other courses that reported flooding included those in Niobrara, Neligh, Pender, Spalding, South Sioux City (Covington and South Ridge), York, Ord, Battle Creek (Evergreen Hill), Schuyler and Omaha (Knolls).
At the Pines, Dravland said several holes in the middle of the front nine received the most damage. The par-3 seventh hole is closed indefinitely as the course turns bunkers into grass moguls. The par-4 sixth, along old U.S. 275 (Reichmuth Road), was covered with mud along the left side and it might have to be temporarily shortened to a par-3.
He said he couldn't believe the debris left on the front nine, "billions of corn stalks, cobs and husks. And there's a lot who drink a lot of Fireball (cinnamon whiskey) from the bottles we've found."
The only greens with any damage were those for practice putting and chipping near the clubhouse, which itself was on dry ground. Of the two cart barns, the newer one had a lot of debris, but the original next to the practice range was dry.
Dravland and his wife, Lori, moved back recently to their home at the Pines. Their house had several inches of water in the basement. Mike Ten Eyck, the club's other pro, had 3 feet in his basement but was able to return home sooner.
Sign up for World-Herald daily sports updates
Get the headlines from Creighton, Nebraska, UNO, high schools and other area teams.
At North Bend, the most damage was connected to the par-3 second hole. Some of the bank leading to the green eroded and the cart path has washed out. Another cart path between the 17th and 18th holes needed repairing.
Balerud said he hopes the course can open by the end of April. Seven holes he considers playable, but they are split between the two nines and away from the irrigation lakes that run west to east.
While two greens went under water, none were damaged. Balerud said only one ice chunk was found. The clubhouse was not flooded, nor were the cart shed and maintenance building, though members helped move the fleet of new carts to higher ground.
"As odd as it sounds, I'm happy with what we found,'' he said. "I had envisioned the second green being washed away."
Oakland continues its cleanup.
"We have moved corn stalks, pushed silt, washed off greens, removed debris, pushed more silt, cleaned out sheds, cleaned out equipment, moved even more silt, and are now working on turning our water on and assessing potential damages,'' read a statement on the course's Facebook page.
"This flood has presented some similarities to last year and also has brought some very sticky and slimy challenges. We will continue to remove silt from the course and hope Mother Nature will help us in drying some of these areas out."
The Oakland club's plan for reopening is for the back nine to open to walkers only while cart paths are repaired. The front nine and range will take longer to get ready.
While Quail Run waits for inspection and possible reopening in April as a makeshift nine-hole course, the Nebraska School Activities Association had to move its Class B boys golf championship in May from there to Elks Country Club across town.
Van Berg, the city's nine-hole course, also was flooded and closed for a time.
Niobrara's nine-hole course winds through the streets of the old town site. Because of recurring flooding, the town moved to higher ground about 40 years ago.
Large ice chunks were still on the course two weeks ago, from photos posted on Facebook, but volunteers helped with cleanup.
Nebraska Section PGA Executive Director David Honnens of Lincoln said the PGA of America's Golf Relief and Assistance Fund can help golf industry personnel affected by the flooding.
To make a tax-deductible contribution to the Golf Relief and Assistance Fund or to apply for assistance, go to GolfReliefFund.org.
The Nebraska 100: Our greatest athletes
The Nebraska 100, originally selected in 2005 and then updated and re-ranked in 2015, came from a pool of nearly 500 names from the ranks of high school, college, amateur and professional sports from the past 140 years. Assistance came from a panel of veteran sports observers from across the state, with the newspaper's sports staff determining the final rankings.
Game Time, TV/Radio Schedule
Downpour in Sheridan opens up sinkhole, floods Oxford Avenue at Santa Fe - The Denver Post
Posted: 01 Jul 2019 12:00 AM PDT
Thunderstorms rumbled along the Front Range on Monday, unleashing hard rain in some areas, including Sheridan, where a sinkhole formed and where at least one car was sunk below an elevated railroad crossing.
The sinkhole sprang in the area of West Oxford Avenue and South Santa Fe Drive. Traffic in the area was shut down eastbound on Oxford at River Point, Sheridan police said. Northbound lanes of Santa Fe were closed at West Union Avenue.
In June 2015, a Sheridan police officer was injured when his patrol car was swallowed by a sinkhole.
Oxford flooded Monday afternoon and was closed in both directions from Santa Fe to Windermere Street, police said.
Oxford also closed east and westbound between Santa Fe and Windermere due to street flooding. pic.twitter.com/DjZHy27p2A

— Sheridan Police Dept (@Police_spd) July 1, 2019
A car was stalled in the water up to its hood. There were no reports of injuries.
In Centennial a home was struck by lightning in the 2800 block of East Dry Creek Place, according to South Metro Fire Rescue.
South Metro Firefighters are on scene of a home struck by lightning in the 2800 blk of E. Dry Creek Pl. in Centennial. Although the chimney was destroyed, crews found no fire or heat. One person inside was evaluated by paramedics but did not get transported to the hospital. pic.twitter.com/LcyTTWrblm

— South Metro Fire Rescue (@SouthMetroPIO) July 1, 2019
The chimney of the home was destroyed, but fire crews found no fire or heat, the fire department said. One person, who was home at the time of the strike, was evaluated on scene but was not taken to the hospital.
At about 8 p.m. Monday, Sheridan police said the water in the sinkhole had subsided.
Water level went down showing the size of the sinkhole. pic.twitter.com/lq0PUES9zW

— Sheridan Police Dept (@Police_spd) July 2, 2019
Oxford reopened to traffic on Monday night, police said.