---
Local News: The work begins after floodwaters recede (6/11/19) - Standard-Democrat
Posted: 11 Jun 2019 01:30 PM PDT
Members of the Illinois National Guard build up existing sandbag barriers to hold back floodwaters Monday along Brookwood Drive in East Cape Girardeau, Illinois.
Jacob Wiegand/Southeast Missourian
CAPE GIRARDEAU, Mo. — As the Mississippi River at Cape Girardeau crests this week more than 14 feet above flood stage, clean up and restoration companies say it's important to address water damage quickly.
Meanwhile, the Better Business Bureau is advising consumers to beware of "fly-by-night" contractors offering to help clear flood debris and repair damaged structures.
According to the National Weather Service, the Mississippi River at Cape Girardeau crested Monday evening at 46.3 feet, 14.3 feet above Cape Girardeau's flood stage of 32 feet.
Several streets and highways throughout the area remain closed this week due to high water including sections of highways 74 and 25 between Interstate 55 and Dutchtown. In addition, Illinois Route 3 north of Jackson County is closed and a section of Route 3 between Illinois Route 146 and Gale, Illinois, was reduced to one lane Monday when floodwater covered part of the pavement.
According to Whitney Quick, regional director of the Better Business Bureau office in Cape Girardeau, floods and damaging rainfall are sometimes followed by "unscrupulous storm-chasing contractors seeking to cash in on the destruction."
She said it's not unusual for the BBB to take complaints about contractors who took deposits from property owners and did little or no work to repair water or storm damage.
"Storm victims need to do their due diligence and not be rushed into making a decision," Quick said. "Consumers should do their research to find qualified and reliable contractors before they sign a contract or pay any money."
More information about identifying reputable contractors and avoiding storm repair scams can be found on the Better Business Bureau's website, bbb.org.
Sources at two local water damage restoration companies -- Servpro and ServiceMaster -- say that while they've received some service calls related to flooding in recent days, most of the water damage they've seen has been more directly connected to excessive rainfall.
"We've had a lot of rain this year, so the ground is saturated," said Virgil Jones, owner of the ServiceMaster franchise in Cape Girardeau. "What's happening is it's leaching into people's basements because the ground is so saturated, but we haven't had a ton of calls that have been directly connected with river flooding at this point."
Jones said the situation would have been different years ago when more homes and businesses were located in flood-prone areas.
"After the last bad flood happened a few years ago, they tore down a lot of houses in the Red Star District of town, so there aren't as many houses there to flood anymore," he said.
"We're not getting a lot of 'emergency' calls, but instead we are hearing from people who are calling because they know their buildings are going to flood and they want to get on our list for cleanup," Jones said.
Some of those structures are near the junction of Highway 74 and Interstate 55 on the south side of Cape Girardeau. "Owners of buildings that are getting flooded now know they're going to get wet and they're prepared for it," he said, adding that it is important to address water damage as quickly as possible.
"As soon as water goes away you need to get on it," Jones explained. "It's really all about removing the wet building materials that won't dry including flooring, cabinets, drywall and insulation. Say the water goes up a foot in your house you need to take two feet of drywall out to be safe, and the sooner the better."
Kaleisha Walker, marketing support coordinator with Servpro in Cape Girardeau, agreed with Jones. "A lot of people don't realize when you have water damage there's a potential for mold damage as well," she said, adding flood water is typically more destructive than so-called "clean" water resulting from a broken water line or faulty plumbing.
"There are three different categories of water damage," Walker said. "Category 1 is clean water from your washing machine or something like that. Category 2 could be a toilet overflow and then category 3 is external water damage from the river or sewer or something similar."
Flood damage is often the most difficult to resolve and often requires removal of carpet, drywall and other building materials.
"The majority of what we're working on right now is water damage that resulted from storms, not necessarily from floods," Walker said.
As rain keeps falling, more homeowners seeing water come up into basements - KSL.com
Posted: 28 May 2019 12:00 AM PDT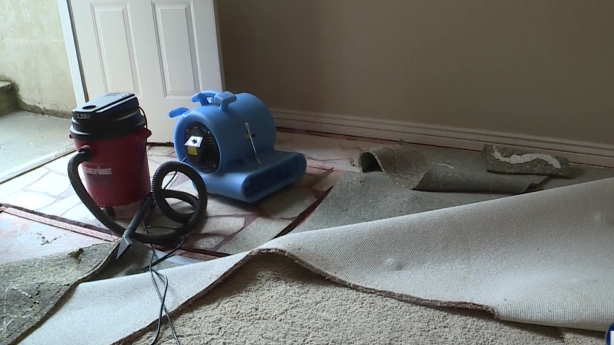 DRAPER — We all know we need the water in Utah.
However, you can't blame anybody if they're ready for more sun to poke through those rain clouds. Especially when all the rain starts becoming a problem.
"Yeah, you're going to get some seepage," said Tony Wilde.
Wilde works for Utah Disaster Kleenup, a restoration company, and said more people are starting to call them about water getting basements.
It's not because something in their home broke — it's because of all the rain causing an over-saturated ground where water has nowhere else to go.
It starts to seep into some basements through cracks in the foundation.
All this rain lately has the ground so saturated, there's nowhere for water to go. It's starting to seep into basements because of the rising water table. We'll have a story on what restoration companies have been busy doing to fix it all on @KSL5TV tonight at 6. #KSLTVpic.twitter.com/LPxXatwwUN

— Alex Cabrero (@KSL_AlexCabrero) May 28, 2019
"Because we haven't had any drying spells to draw some of that out, the water table just keeps rising because we're just putting more and more water into the ground," said Wilde.
The unfortunate part is there's really nothing you can do to prevent it.
One tip is to keep downspouts from rain gutters from spilling close to your foundation. Wilde even suggests using a sump pump in window wells where water collects.
However, catching the problem as quickly as possible could keep a small problem from getting bigger.
"What you want to try and do is be vigilant in checking your basement as far as looking for those wet spots, pulling the carpet back, pulling the carpet pad," said Wilde. "The biggest thing is to get it away from the water because the pad actually radiates the water everywhere."
Catching the water in time is important because, if left unchecked, wet carpet, wood and drywall could cause mold to grow.
In some cases, pieces of the drywall may need to be cut.
"That keeps everything open so you don't get mold," said Wilde. "We're able to dry it with fans and make sure that mold doesn't keep creeping up somewhere further in the house. The damage, if we get to it early, can be very minimal."
It's also natural to want to replace your pad and carpet right away if it's wet.
However, Wilde says you should wait until Mother Nature is done bringing rain before putting everything back, just in case more rain keeps falling.
"Unfortunately, she's not allowing that, so you just have to be patient and let the drying process take its time," he said.
×
Photos