---
Local News: The work begins after floodwaters recede (6/11/19) - Standard-Democrat
Posted: 11 Jun 2019 01:30 PM PDT
Members of the Illinois National Guard build up existing sandbag barriers to hold back floodwaters Monday along Brookwood Drive in East Cape Girardeau, Illinois.
Jacob Wiegand/Southeast Missourian
CAPE GIRARDEAU, Mo. — As the Mississippi River at Cape Girardeau crests this week more than 14 feet above flood stage, clean up and restoration companies say it's important to address water damage quickly.
Meanwhile, the Better Business Bureau is advising consumers to beware of "fly-by-night" contractors offering to help clear flood debris and repair damaged structures.
According to the National Weather Service, the Mississippi River at Cape Girardeau crested Monday evening at 46.3 feet, 14.3 feet above Cape Girardeau's flood stage of 32 feet.
Several streets and highways throughout the area remain closed this week due to high water including sections of highways 74 and 25 between Interstate 55 and Dutchtown. In addition, Illinois Route 3 north of Jackson County is closed and a section of Route 3 between Illinois Route 146 and Gale, Illinois, was reduced to one lane Monday when floodwater covered part of the pavement.
According to Whitney Quick, regional director of the Better Business Bureau office in Cape Girardeau, floods and damaging rainfall are sometimes followed by "unscrupulous storm-chasing contractors seeking to cash in on the destruction."
She said it's not unusual for the BBB to take complaints about contractors who took deposits from property owners and did little or no work to repair water or storm damage.
"Storm victims need to do their due diligence and not be rushed into making a decision," Quick said. "Consumers should do their research to find qualified and reliable contractors before they sign a contract or pay any money."
More information about identifying reputable contractors and avoiding storm repair scams can be found on the Better Business Bureau's website, bbb.org.
Sources at two local water damage restoration companies -- Servpro and ServiceMaster -- say that while they've received some service calls related to flooding in recent days, most of the water damage they've seen has been more directly connected to excessive rainfall.
"We've had a lot of rain this year, so the ground is saturated," said Virgil Jones, owner of the ServiceMaster franchise in Cape Girardeau. "What's happening is it's leaching into people's basements because the ground is so saturated, but we haven't had a ton of calls that have been directly connected with river flooding at this point."
Jones said the situation would have been different years ago when more homes and businesses were located in flood-prone areas.
"After the last bad flood happened a few years ago, they tore down a lot of houses in the Red Star District of town, so there aren't as many houses there to flood anymore," he said.
"We're not getting a lot of 'emergency' calls, but instead we are hearing from people who are calling because they know their buildings are going to flood and they want to get on our list for cleanup," Jones said.
Some of those structures are near the junction of Highway 74 and Interstate 55 on the south side of Cape Girardeau. "Owners of buildings that are getting flooded now know they're going to get wet and they're prepared for it," he said, adding that it is important to address water damage as quickly as possible.
"As soon as water goes away you need to get on it," Jones explained. "It's really all about removing the wet building materials that won't dry including flooring, cabinets, drywall and insulation. Say the water goes up a foot in your house you need to take two feet of drywall out to be safe, and the sooner the better."
Kaleisha Walker, marketing support coordinator with Servpro in Cape Girardeau, agreed with Jones. "A lot of people don't realize when you have water damage there's a potential for mold damage as well," she said, adding flood water is typically more destructive than so-called "clean" water resulting from a broken water line or faulty plumbing.
"There are three different categories of water damage," Walker said. "Category 1 is clean water from your washing machine or something like that. Category 2 could be a toilet overflow and then category 3 is external water damage from the river or sewer or something similar."
Flood damage is often the most difficult to resolve and often requires removal of carpet, drywall and other building materials.
"The majority of what we're working on right now is water damage that resulted from storms, not necessarily from floods," Walker said.
Flood housing recovery: How to fix and prevent damage - Washington Post
Posted: 14 Sep 2018 12:00 AM PDT
Contaminates furniture
Most upholstered furniture, mattresses and draperies should be tossed. Floodwater from a storm is a nasty soup of microorganisms from sewage leaks, chemical spills and everyday contaminants. Properly cleaning all but the most valuable pieces would probably cost more than replacing them. Soaked particle-board furniture will fall apart, but pieces made of hardwood, metal, concrete, plastic and glass should be fine after they are thoroughly cleaned.
Assessing flood damage remains a big challenge | News - Norfolk Daily News
Posted: 19 Apr 2019 12:00 AM PDT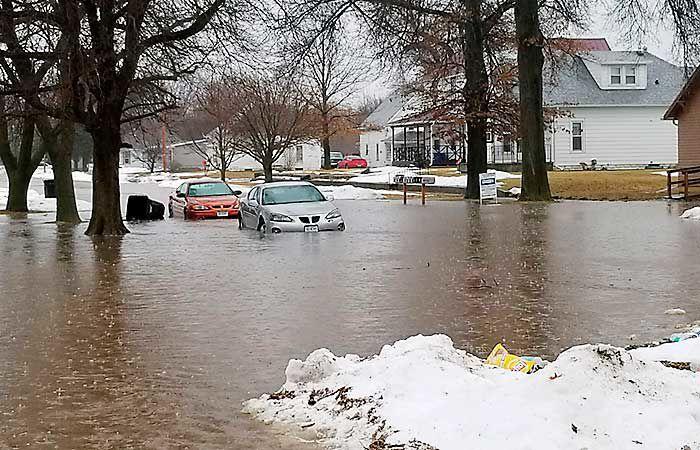 It's been just over a month since the massive, historic flooding of 2019 struck parts of Northeast and North Central Nebraska.
Is that enough time to accurately assess how much damage was done? Well, yes and no.
For some communities in this corner of the state that were largely spared, city and village representatives have a pretty good handle on what did or didn't occur. But for other communities — think Niobrara and Verdigre, for example — it's going to take more time for a true assessment to be made.
A few weeks after the mid-March flooding, state officials released some preliminary statewide damage-related numbers that included:
— $1 billion in losses of livestock and crops.
— 2,600 homes either destroyed or severely damaged.
— 3,429 requests for individual federal disaster aid.
— 2,500 referrals for Small Business Administration home repair loans and 420 business loan referrals.
Those numbers now have changed, but they provide a statewide sense of the scope of the impact of the flooding. And yet, they're hard for anyone to wrap their arms around because of their scope and magnitude.
That's why Daily News staff members have spent the past week making contact with village clerks, mayors or other local government representatives in numerous Northeast and North Central Nebraska communities. The goal was to personalize the flood damage situation, if possible, in this corner of the state.
Not surprisingly, many of the officials contacted — especially those in communities hardest hit — said it was too early to provide any kind of realistic estimates. Some were just too busy to talk, and understandably so.
What follows is a synopsis of the community information that was made available to the Daily News.
And it's important to remember that the information focuses just on communities. Damage to roads and bridges in rural areas, to say nothing of damage done to individual farms, ranches and livestock operations, is massive, too, but not included in this area roundup.
Atkinson
Atkinson Police Chief Tim Larby, who also serves as the city's emergency manager, said they aren't facing any flooding challenges. "We had no residential flooding or in town itself," Larby said. "Everything anybody has dealt with is rural (damage) or up toward Niobrara.
Larby said Atkinson's fire and rescue has assisted in search and rescue efforts for Kenny Angel, the man who was swept away when the Spencer Dam collapsed.
Bancroft
Megan Novak, city clerk of Bancroft, said her community was relatively fortunate in that there was very little damage within the community.
"There were a couple of houses on the edge of town that received damage. One, for sure, had water in the basement," she said.
Battle Creek
Mike Fleer, Battle Creek city clerk, said no homes were destroyed because of flooding and no businesses were damaged. "But two homes had basement walls collapse. A number of homes were inundated with water or had sewer backup. Sewer water came up through drains."
What's the biggest flood-related challenge currently facing the community? "The town had to deal with the disposal of private property that was damaged due to flood water in the basement like carpeting and drywall from basements. There was one home that was really low that did not have a basement so it damaged the main level. Now it's just putting the households back in order," he said.
Beemer
Holli Dale, city clerk in Beemer, said two houses in Beemer were deemed unlivable, and six homes were damaged by water inundation, but the extent of the damage is not yet known.
There also were about 12 businesses in the Beemer community that sustained water damage due to the flood, but the extent of that damage had yet to be determined, as well.
The village itself sustained damage to the electrical panels near the tennis and basketball courts in its park, and about 20 truckloads of rock was brought in to help fix various parking lots in the community. The city sewer plant also had a piece of equipment fail due to the flood.
Dale said government officials are now beginning to meet with individuals and business owners about the damage, and a better determination of the extent of the destruction could be available as early as next week.
Clearwater
Tina Snider, village clerk, said, "We were very lucky compared to our country roads in our whole county or other communities. We only had one gentlemen that had water in his house, but you have to remember that Clearwater really doesn't have basements because our water table is so high on regular basis."
There was plenty of water surrounding houses and "we were pumping water out of town — but they just filled the crawl spaces," she said. "We did get many loads of sand for sand bags to put around homes and we built our dike on our north road of our town."
Hartington
Natalie Schaecher, Hartington city clerk, said no homes have been destroyed or significantly damaged, "but there were a few that had water in their basements, so needing to replace carpets."
In regard to businesses, Schaecher said, "I would probably say none of them destroyed. As far as significant damage, I know that there was at least one that had some water damage in their basement. We were really lucky here in Hartington."
What's the biggest flood-related challenge currently facing the community? "Probably our fairgrounds. That was the area of Hartington that was the worst damage in the flood, we lost a hog barn out there and some other buildings had water damage. So that was the area that got hit the worst," she said.
Humphrey
A village representative said Humphrey fortunately didn't have flooding in town, so there is no significant damage to report other than water in a few basements.
Lynch
Jane Nelson of rural Lynch, who worked at the incident command center during the flood, said the damage there was widespread.
"We're a town of 245 people. There were 60 homes and 13 businesses that were flooded. There was anything from a couple of inches in those homes to five feet of water. They are tearing down a few homes that were a complete loss," she said. "We also lost the community pool, our park and our community RV park. It was a severe hit. Some people are comparing it to the 1960s flood, (but I think this) almost doubles that."
It's too early for a damage estimate. "It's kind of still going on. We don't have a water supply. Businesses are taking a toll, especially with transportation so hard with all of our bridges out," Nelson said.
What's the biggest flood-related challenge currently facing the community? "The water. The water's probably the biggest. We do have water that has been pumped into the lines, but it's not able to drink. There's sand in the water," Nelson said.
Community residents are grateful, she said, for the work of the Baptist Mud-Out Crew, a Baptist relief group. "They came in from all over the country and they took out sheetrock, and flooring and sprayed the homes for mold. We're trying to salvage what we can because we're such a small town," she said.
Madison
A village representative said Madison fortunately didn't have flooding in town, so there is no significant damage to report other than water in a few basements.
Neligh
Neligh city clerk Dana Klabenes said that inside the Neligh city limits, there was no significant damage to homes or businesses. The most damage suffered in Neligh was to Fred Penn Park in southwest Neligh which sits along the banks of the Elkhorn River.
The city is working on applying for grants and assistance from the U.S. Army Corps of Engineers to stabilize the park and the area around it. The exact cost for the city will become clear as that process moves along.
Klabenes said the flood in March was not nearly as significant for Neligh as the flood of 2010.
Newman Grove
Jolene Roberg, village clerk, said Newman had 28 homes affected by the flood. No businesses on Main Street were affected. No damage estimates are currently available.
Niobrara
Esther Nielsen, Niobrara village clerk, said there were two homes damaged significantly on Highway 14, but they are outside the city limits.
"Probably 80 percent of the homes had water in the basement, so we are very fortunate that way," she said. "I don't have an exact number but it probably was around 200 homes and businesses that were affected, some of which were more significant."
Three businesses were extensively damaged, but probably 13 businesses, including the golf course and the rodeo arena and some storage sheds, all were damaged. Many roads are also severely damaged, Nielsen said.
Any ballpark dollar figure on the total damage to homes and businesses? "The first state estimate that was sent in came in with $15,800,000. That's a ball park figure ... and includes the golf course damage," Nielsen said.
What's the biggest flood-related challenge currently facing the community? Nielsen said Niobrara's police chief, Doug Salmon, is most concerned about emergency services "because we don't have access to the west side of the Niobrara River because two bridges are out. There are no emergency services to people in Verdel, Lazy River Acres and the people who live out in the country. There's no fire or rescue service for them."
Roads are a big concern, too. "People have been working very hard to get stuff cleaned up, but it is still bad. It's shocking to people who haven't been here. As our board chairman, Jody Stark, and others have said, our economic outlook and the long-lasting economic impacts are a major concern. There are people who haven't recovered from the 2012 flood yet," she said.
On the positive side, the water wells are back and the water is good. The electric service has been restored.
"We have a lot of people now who are exhausted. They are trying to go forward. We are still trying to make life work. People are trying to clean up. This community, as long as I have been here, just goes along and regroups. They already have now to a certain extent but until the bridges are back, it is going to be hard," Nielsen said.
O'Neill
Nikki Schwanz, O'Neill's city clerk/treasurer, said there were no homes or businesses were destroyed because of the flooding.
What's the biggest flood-related challenge currently facing the community? "Our streets and drainage infrastructure. It is estimated that is will cost approximately $100,000 to get the most affected streets and intersections passable. This does not include complete restoration of the streets and drainage system," she said.
Schwanz said O'Neill already has spent about $16,000 in materials and over $3,000 in employee overtime compensation.
Osmond
Missy Hoppe, who coordinated flood-related efforts in Osmond as that community's EMT captain, said Osmond had more than 75 homes affected, with most of them experiencing significant damage.
"They all had full basements, some with water clear up to the rafters and some up to the main floors. We had some houses that were down in the flood zone, so they did have flood insurance, but it did a lot of damage on the south side of the highway. There were two or three that had basement walls give out."
In terms of businesses, Hoppe said, "It hit almost every business downtown, which is over 30. I think some of the worst were the dentist's office, the Dana Cole Office (accounting firm), the city office, the post office and Tiger Tavern. The tavern, from what I know, the building will not be able to be saved. The ag businesses, Farmer's Pride and Helena had major damages out there, too." No damage estimates are yet available.
What's the biggest flood-related challenge currently facing the community? "Probably just cleaning up the corn stalks. Everyone has just come together and taken care of each other, just making sure that everyone has got their hot water heaters and the furnaces going and just have a place to live. There has been an abundance of blessings — there was no stranger in town," she said.
Pierce
Chad Anderson, administrator for the city of Pierce, said to the best of his knowledge none of the homes within the Pierce city limits were destroyed by the flood, but there are seven that will take a considerable amount of time and money to repair. In addition, there are 30-35 homes in the community that had water in the basement or crawl space.
As far as businesses, Premier Estates of Pierce — formerly the Pierce Manor — had 16 inches of water in the facility.
"I think the clean-up phase (at the nursing home) has been completed of removing the materials that were damaged from the flood," Anderson said. "The next phase will be reconstruction. The plans are to reopen within the next 60 days. The Pierce Historical Museum also had around $10,000 in damages to their main office/display building within Gilman Park."
Anderson said the most significant flood-related challenge now, as far as the city is concerned, is repairing the streets and sewer main system.
Plainview
Michael Holton, city administrator, said Plainview did lose any homes but had several basements flooded.
"It is safe to say that up to a quarter of the residents experienced some type of damage in their basements. We held free dump days for local residents affected by the flood to get the stuff out of their basements and into the transfer. The last figure that I looked at is we has nearly 15 tons of debris that came from Plainview residents and the flooding," he said.
What's the biggest flood-related challenge currently facing the community?
"The biggest concern that we had, which affected many smaller rural communities and larger ones, too, was protecting the water source and the sanitation areas. With the amount of flood water that was running, we did not want to overwhelm the sanitation system and back up raw sewage in the homes in addition to the flood water," he said. "With extra man hours and pumps we were able to save the sanitation system from backing up."
One of the larger problems Plainview faced for a short period during the flooding is that residents were truly trapped on all four sides from going anywhere. "Even if we wanted to, we would have been unable to help any neighboring towns on Wednesday morning of the flooding," Holton said. "We could not reach Neligh, Orchard, Creighton, Osmond, Tilden, Pierce, Meadow Grove or even Foster. This made Plainview self-reliant for 48 hours."
Randolph
Kelsey Backer, Randolph's city administrator, no homes or businesses were destroyed or significantly damaged. "The major issue was water in basements," she said.
What's the biggest flood-related challenge currently facing the community? "The park did have a lot of debris that washed in from the flood. Already eight dumpster loads have been hauled out and brought to a compost site. A park cleanup day has been scheduled for Tuesday, April 23," Backer said.
Scribner
Elmer Armstrong, city administrator, said Scribner was fortunate in that no homes or businesses were destroyed or significantly damaged by the flooding.
What's the biggest flood-related challenge currently facing the community? "The biggest would be outside our dike riverbank stabilization so it doesn't cut a new channel on the east side," he said.
Armstrong added that, so far, "the Nebraska Emergency Management has been great, and dealing with FEMA has been good."
Stanton
Nancy Morfeld, Stanton's city clerk, said no homes or businesses were destroyed or significantly damaged by the flood.
What's the biggest flood-related challenge currently facing the community? "The economy of businesses in town was hurt due to the bridge being out. There was some cleanup that was needed by the fairgrounds. There was also difficulty getting to the town wells," she said.
Tilden
Krystal Meyer, Tilden's deputy clerk, said there was one home outside of Tilden located that is inhabitable and the river has taken part of the home. There was one house inside of town that had significant damage to their basement from Giles Creek flooding.
But there have been no reports of damage to any Tilden businesses, she said.
What's the biggest flood-related challenge currently facing the community? "The biggest flood-related challenge that Tilden is currently facing would be the creek bank stabilization, and also removing debris and trees from Giles Creek," Meyer said.
Verdigre
Verdigre residents are starting to get back to normal — at least, in a sense of the word, said Jason Wessendorf, co-editor of the Verdigre Eagle newspaper.
"Most people would say it's mostly back to normal-ish," he said.
The March flooding hit about 60 houses and 30 businesses or entities in the town of about 575, he said. Eighty-five percent of the city's flood plain was affected.
The post office is still closed due to asbestos in the floor tiles, and postal operations have been running from a mobile unit, he said. Some buildings required only a little bit of repair, while others were completely renovated.
Everyone in town except for one family is back in their homes, Wessendorf said.
He said the biggest challenge moving forward will be wading through government paperwork to get reimbursed for flood damage repairs. FEMA has designated Knox County, where the city is located, as eligible for both individual and public assistance. However, navigating the process of getting reimbursed brings with it difficulties of due process and uncertainty of knowing what and how much will be paid back.
In addition, although Verdigre is located on a floodplain, many chose not to carry insurance due to the high cost, he said.
Volunteers helped speed up the process of getting homes and businesses back in working order, he said. The preliminary estimate for cleaning out debris in Verdigre is $2 million. There are no estimates of the total damage to the city at this time.
West Point
West Point didn't experience any inland flooding, said Tom Goulette, city administrator. The city will have to rebuild some gravel roads that were submerged by floodwaters. Other tasks surrounding flood recovery efforts involve cleaning up around the city's levee system, such as taking down sand bags.
"Those kinds of things all take time and manpower," Goulette said. "Give us good weather, that's what we're waiting for."
No businesses or houses within city limits were damaged or destroyed.
Wisner
Part of the land around Wisner is still underwater, said Randy Woldt, Wisner's utilities superintendent. "People have seen water in places that hadn't gotten that high as long as anyone could remember," he said. "(There's) a lot of debris still out there."
While none of the homes in the community were destroyed, there were a few with significant damage and others where water leaked into their crawlspace, Woldt said. Some businesses also experienced flooded storage facilities.
The biggest challenge in the community moving forward would be getting parks and roads back in working condition. Of the three parks in Wisner, two were flooded, which will require maintenance work including removing mud from ballfields and fixing washouts.
In addition, South 18th Street, which was washed out, has been reopened on a temporary basis with a gravel surface.